---
We are a special-function hospital providing full service and care to patients referred from other institutions (hospitals or clinics). We are also a university hospital training and cultivating new medical personnel. Thank you for your understanding and cooperation.

8:30-11:00 Monday through Friday (hours may vary by department)
Saturday, Sunday and holidays, including the New Year Holidays (Dec 29-Jan 3)
Procedure for consultation
Please take a number ticket from the machine at Reception Desk 3., and fill in a consultation application form. When your number is called, please submit the form, along with your health insurance card and any other documents, at Reception Desk 3.
Additional Initial Consultation Fee
Please be advised that an additional fee of 5,500 yen (including tax) will be applied in the following cases:
You do not have a referral from another medical institution except for patients arriving by ambulance
You have not visited this hospital for a long period of time except in the case of long continuous treatment due to chronic illness
You receive a consultation after a long period of time for illnesses normally requiring two to three weeks for recovery such as a cold
* If you consult the dental department separately without a referral, this will incur a separate initial consultation fee of 5,500 yen (including tax)
---
Returning Patients (2nd visit +)
Please insert your consultation card in the revisit reception machine on the floor of the department which you have an appointment with, and take a reception form.
* If you need an X-ray or an examination before your consultation, or if your appointment is for an examination only, please go directly to the examination / radiology revisit reception machine located in front of the information desk.
Check in at the outpatient reception on the floor of the relevant department, and take a reception form.
*If you are visiting the hospital after a long absence with a referral, please present it at the reception desk.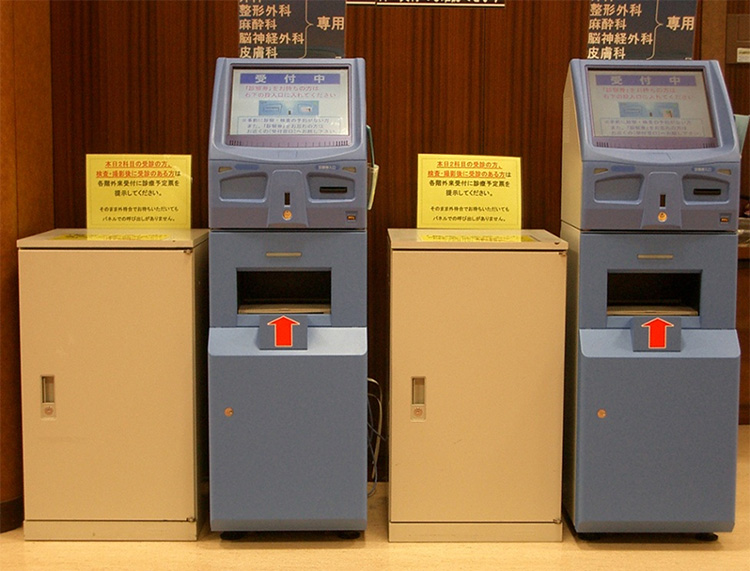 Addition to fee for follow-up visit
For patients whom the doctor recommends to have medical care in a regional clinic, addition to fee for follow-up visits of 2,500 JPY (+ consumption tax) will be charged at subsequent follow-up visits to continue to receive medical care in our hospital.
For details, please contact our Medical Affairs Division.
---
foreign nationality patients
〇To foreign nationality patients who would like to have a consultation at this hospital but are not covered by Japanese public medical insurance※
In order to ascertain safe consultation and treatment of patients with foreign nationality, and to realize smooth procedures of administration for the patient's entry and departure formalities, we ask you to contact our hospital's 'International Medical Cooperation Department' using the following agents.
Please be advised that the fee for the use of these agents have to be paid by the patient. Detailed contact addresses and telephone numbers are as shown below.
*For details about public medical insurances, please contact the local government or the person in charge of social benefits of the company you are working for.
AdobeReader® is required to view this content. If this program is not installed on your computer, please click on the icon to the right to do so.
---
After your consultation, please present your reception form at Accounting Desk 6, on the first floor of the outpatient ward, and make a payment using the automated payment machine.
Automated payment machine hours: weekdays from 9:00 to 16:00 (the same day payments only)
Credit card payment machine hours: weekdays from 8:30 to 17:00 (one-time payments only)

(IC chip credit cards only: PIN required)
* Payment with non-IC credit cards can be made at the credit card payment counter 4.
(Weekdays from 8:30 to 17:30)